This would have been the Notorious B.I.G's 50th birthday, and he would have been 24 years old at the time of his death in 1997. To commemorate Biggie's long-term impact, a year-long initiative will culminate with the release of a 25th Anniversary Super Deluxe Box Set edition of Life After Death.
The campaign's tagline is "The Sky's the Limit," and it honors the Notorious B.I.G.'s legacy with a partnership from Bad Boy Records, Rhino, and Atlantic. Starting on March 25th, fans can expect to see a slew of Biggie-related events, ranging from a 4K upgrade to the artist's video catalog to internet activities.
On Wednesday, it was announced that the first official Notorious B.I.G. NFT collection will be released soon. A portion of the proceeds from this collection will go to the Christopher Wallace Memorial Foundation.
The Green Web3 company OneOf is partnering with the estate of the late artist Biggie to release a collection of items that will be minted on the Tezos blockchain. Tezos claims that its approach to NFTs is more energy efficient than other blockchains.
"We are excited about our partnership with OneOf and their expertise to memorialize my son Christopher with this first official NFT drop to give his fans an opportunity to participate in and honor their love of him and his music," Voletta Wallace, Biggie's mother, said in a statement.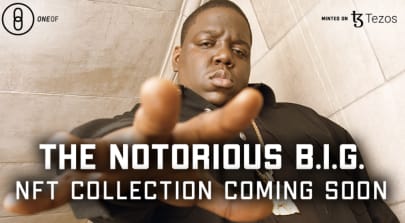 Image via Michael Lavine/OneOf
The Biggie NFT collection was created by Willingie, Inc.'s Elliot Osagie and Voletta's manager Wayne Barrow. The latest press release says more information on the collection will be coming soon. There is already a landing page with information where fans can sign up for updates on the project.
The Life After Death 25th Anniversary Super Deluxe Box Set is coming out on June 10. This set is for people who want to collect vinyl records. There will be a booklet with pictures and notes from the people who worked on the album.
The tracklist for the box set is below. The set includes 12-inch entries. The 3-LP Silver Vinyl edition of Life After Death will launch as a Target exclusive this year for $59.98. For more information on the Super Deluxe, click here.
Life After Death
A1. "Life After Death"
A2. "Somebody's Gotta Die"
A3. "Hypnotize"
A4. "Kick In The Door"
B1. "Fuck You Tonight
B2. "Last Day"
B3. "I Love The Dough"
B4. "What's Beef?'
C1. "B.I.G. Interlude"
C2. "Mo Money Mo Problems"
C3. "N****s Bleed"
C4. "I Got a Story To Tell"
D1. "Notorious Thugs"
D2. "Miss U"
D3. "Another"
D4. "Going Back To Cali"
E1. "Ten Crack Commandments"
E2. "Playa Hater"
E3. "Nasty Boy"
E4. "Sky's The Limit"
F1. "The World Is Filled…"
F2. "My Downfall"
F3. "Long Kiss Goodnight"
F4. "You're Nobody (Til Somebody Kills You)"
"Hypnotized" 12"
A1. "Hypnotize (Radio Mix)"
A2. "Hypnotize (Instrumental)"
B1. "Hypnotize (Club Mix)"
"Mo Money Mo Problems" 12"
A1. "Mo Money Mo Problems (Radio Mix)"
A2. "Mo Money Mo Problems (Instrumental)"
B1. "Mo Money Mo Problems (Album Version)"
B2. "Fuck You Tonight"
"Sky's The Limit" 2×12"
A1. "Sky's The Limit (Radio Edit)"
A2. "Kick In The Door (Radio Edit)"
B1. "Going Back To Cali (Radio Edit)"
B2. "Sky's The Limit (Instrumental)"
C1. "Kick In The Door (Club Mix)"
C2. "Going Back To Cali (Club Mix)"
D1. "Kick In The Door (Instrumental)"
D2. "Going Back To Cali (Instrumental)"
A1. Nasty Boy (Radio Edit)
A2. Nasty Boy (Instrumental)
B1. Nasty Boy (Album Version)