In 2021, the NFT ecosystem experienced a significant increase in trade. DappRadar's industry report for the July-September period, released October 1, revealed that sales volumes reached $10.7 billion.
There has been a 704 percent rise in sales volume from Q2, according to DappRadar, a firm focused on monitoring decentralized apps (dapps) data. According to MarketWatch, OpenSea, a prominent NFT marketplace, has already generated $3.4 billion in August alone. In the third quarter of 2018, according to DappRadar, the blockchain industry as a whole saw 1.54 million daily unique active wallets each day, representing a growth of 509% over the previous year.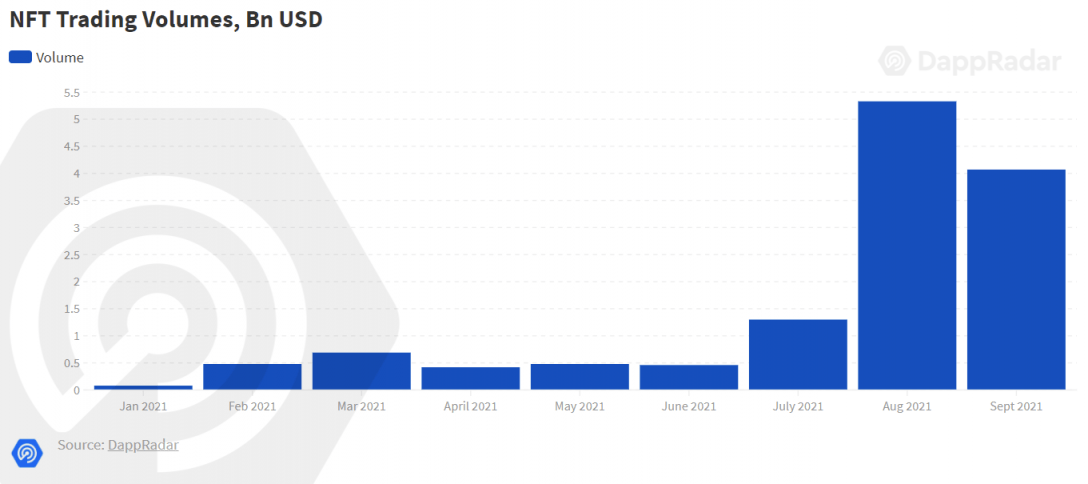 A deeper look at the enormous volume achieved in July and August reveals that, in addition to NFTs and DeFi, decentralized gaming has fueled continued blockchain use within the sector. According to DappRadar's study, based on Axie Infinity, perhaps the most well-known NFT-based online video game, it surpassed $2 billion in all-time trading volume in September.
A few solitary NFT sales have distinguished out among the volume as cryptocurrency's popularity has risen. While there hasn't been a single sale as big as Beeple's $69 million Christie's auction from March, some of the rarest CryptoPunks have continued to sell for millions, including CryptoPunk #8857 which recently sold for 2,000 ETH.
DappRadar has released a full report on the growth of the NFT marketplace. You can read it here.